News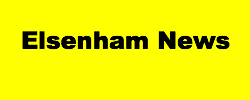 Or email elsenhamnews@hotmail.co.uk and we will send the PDF to you.
Decorated Ladybird Houses - The Winners
CAR BOOT sale 14th August 2021
Sadly the Flower Show has been CANCELLED this year, but see here for Children's Handicraft Competition
Sadly the fete has been cancelled this year
Details of the POP-UP Market Saturday 26th June 1pm-4pm.
ECA AGM was on Friday 26th March at 7.45pm for 8pm start using Zoom
September 2021 -Elsenham News deliveries have restarted. Thank you to the editorial team and all the deliverers.
Due to the COVID-19 crisis the April - August editions of Elsenham News were not being printed.
More Good News - The Mobile Library has resumed its visits. Details here.

Thank you for everybody that participated in the Elsenham Scarecrow Festival 2020
Flower Show Society Plant Sale
We would like to thank you for supporting us by buying plants 'from a distance' in a very different way this year.
When we began taking our cuttings in the autumn and even when we were sowing our seeds in February, we could never have imagined how different our sale would need to be in 2020. It seems, however, that sales have surpassed all expectations and we are so grateful to all of you who now have our plants in your possession.
The Tennis Courts & Bowling Green now have limited access - see Elsenham News for details
ECA AGM 2021
This took place on zoom on Friday 26th March at 7.45 for 8pm start.
Everyone Elsenham resident Welcome.
Trustees & Village organisations:
Please inform our secretary, Moyra Jackson, if you are willing to continue in your current role or to represent your organisation for the next 12-month period.
If you wish to join us please email

and we will send you the zoom link.
The Memorial Hall is available for youth & excerise groups (in line with latest Governemnet guidance).
A Toilet in the Hall is open so that the Youth Football Teams can resume their games

We will now take bookings (but in line with government guidance) for after 21st June 2021.

I have no doubt you will understand our actions and we do this with the best interest of our hall users at heart. It may also allow us to undertake some minor repairs that we have been unable to do when we were in the fortunate position of hall bookings being at full capacity.
We will advise the village as soon as there is any change to this or if there is any relevant information to share.
Welcome to the slightly changed Elsenham Community Association website.
All the information that was on our previous site has been copied over so you should see little difference.
Please email

with any problems, updates, comments.