News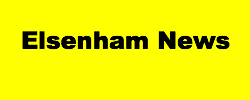 Or email elsenhamnews@hotmail.co.uk and we will send the PDF to you.
ECA AGM 2021
This will take place on zoom on Friday 26th March at 7.45 for 8pm start.
Everyone Elsenham resident Welcome.
Trustees & Village organisations:
Please inform our secretary, Moyra Jackson, if you are willing to continue in your current role or to represent your organisation for the next 12-month period.
If you wish to join us please email

and we will send you the zoom link.

Sadly we have closed the Memorial Hall for the time being.
A Toilet in the Hall will be open so that the Youth Football Teams can resume their games eventually.
We will now take bookings (but in line with government guidance)
I have no doubt you will understand our actions and we do this with the best interest of our hall users at heart. It may also allow us to undertake some minor repairs that we have been unable to do when we were in the fortunate position of hall bookings being at full capacity.
We will advise the village as soon as there is any change to this or if there is any relevant information to share.
ECA AGM 2020

The ECA AGM was held on Thursday, 12 March 2020, commencing at 7.30pm. The first meeting officially closed the existing charity (numbered 302363).

The second meeting formalised the new charity (numbered 1186436) still named Elsenham Community Association (ECA).

The ECA owns and runs the Memorial Hall, situated on the playing field (off Leigh Drive), and ensures it is fit for hiring out to organisations within the area of Elsenham and for private hirings – parties, meetings etc. The ECA also hires the hall to Elsenham Parish Council for their meetings and to Uttlesford District Council for polling days.

The organisations that regularly hire the hall, are Brownies, Zumba, Line Dancing, Studs and Stars, Yoga, Tots and Toddlers, Women's Institute, Aerobics, Church Lunch Club, Elsenham Village Café, Rainbows, Little Fishes, Slimming World, Stretch and Relax, Elsenham History Society, Elsenham Flower Show, Henham & District Gardening Club.

The ECA also organises the Elsenham Village Fete & the Santa event.

New trustees of the charity and the Chairperson, Treasurer, Secretary, Vice Chairperson and Booking Secretary were appointed.

The trustees come from:

a) representatives of the village organisations that use the hall and

b) village representatives (a village representative is a resident of the village who wishes to be involved in the ECA).

Those, from these groups, who do not wish to become trustees, but who wish to attend and participate in discussions with respect to the ECA may do so, but may not vote.
The ECA is run by the village for the village
Welcome to the slightly changed Elsenham Community Association website.
All the information that was on our previous site has been copied over so you should see little difference.
Please email

with any problems, updates, comments.