Elsenham Flower Show
Elsenham Flower Show Society celebrates its 36th Flower Show in 2021
Saturday 22nd May - Plant Sale
Every year, in May, we hold a Plant Sale to help raise funds to put on the Show in August.
Entrance is free and you'll find all plants at very reasonable prices

As in previous years, we have planned a mix of home-grown vegetable and ornamental plants to be grown for the sale.
Home-made refreshments will be available.
Any contributions of spare plants are always welcome.
Don't forget your pots for recycling. There will be a large box available for you to put them in.
The Flower Show Society organises a bi-annual Elsenham Open Gardens event
Sunday 22nd June – Village Open Gardens 1pm to 5pm.
If you are interested in opening your garden for us at the end of June, please get in touch.
We are on the look-out for new gardens as well as some of our old favourites.
It's a really lovely, sociable afternoon and very well worth the effort, both for openers and visitors alike!
Again, proceeds from the day will go to help towards the costs of putting on the Flower Show in August.
Saturday 21 August – Elsenham Flower Show
The 2021 Show schedule appears in the middle pages of the March 2021 Elsenham News to give you plenty of time to decide what you could consider growing, making or baking! The schedule will be repeated in the August edition of Elsenham News, also with the entry form.
Click here for the Flower Show Schedule & Rules 2020/21.

The flower show also includes baking, produce, flower arranging, handicraft and photography classes. We try to ensure that the schedule offers opportunities for everyone, including six different children's classes.
Don't forget, this is our village – our FLOWER SHOW SOCIETY -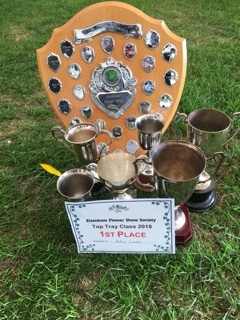 Overall winner Alex Lucas
Email with subject Elsenham Flower Society via: