Elsenham News - Editorial Information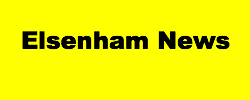 Articles


The last day for editors to receive articles, advertising and letters, which must contain the author's name and address (which may be withheld), is the 12th of each month.
Articles should ideally consist of a half page of A5 or a full page of A5.
Articles over these sizes or letters containing more than 500 words may be edited depending on space.
Copy submitted after the 12th may not be accepted but will, if deemed appropriate, be held over to the next month.
We are happy to receive handwritten articles that ideally should reach us earlier than the 12th to allow for scanning etc.


Dates for the Diary must include date, event, venue and start & finish times (often omitted).
Please submit all articles, adverts, letters and queries to the editorial team at:


General Notes


Whilst every effort is made to ensure that information is correct, the editorial team cannot be held responsible for any inconvenience caused through errors or omissions.
The views expressed within this magazine are not necessarily the views of the editorial team or Elsenham Community Association (ECA).
The editors and the ECA can accept no responsibility for the goods or services advertised in the magazine. Advertisements are included in good faith. The Editors reserve the right to allow replies to letters/articles to be made in the same edition when appropriate.
The Editors decision is final.
Subscriptions


Elsenham News is delivered free of charge to every house and business in Elsenham Parish.
Elsenham News is available by email (PDF) at no charge, or through the post at a cost of £13 per annum. Contact details below.
Advertising


Village residents may submit short details of items wanted or for sale etc., at no charge. These will be included in the next available issue of the magazine subject to space and acceptance by the editors.
Advertising Rates
Single Insertion Annual (11 issues)
Back Cover £75.00 N/A
Full Inside Page (13.2cms x 19.2cms) £50.00 N/A
Half Page (13.2cms x 9.5cms) £20.00 £190.00
Quarter Page (6.4cms x 9.5cms) £10.00 £100.00
REDUCED RATES FOR VILLAGE ORGANISATIONS
Flyers
It costs £50 to insert an advertising flyer into the magazine. You must let us know by the deadline of the 12th. You must also provide the flyers.
Village organisations attract reduced rates of £5 for ¼ page. Half and full-page advertisements attract full rates.
To place an advertisement:
To place an advertisement:
For any queries please contact us. Please send your advert as Word or Publisher via email to


Once your advert has been approved and you are happy with it, you will be sent an invoice, which should be paid by BACS.

Elsenham News Editorial Team can be contacted via: