Make a diary date to come along to the Memorial Hall on Thursday 8th February 2024 at 7.30pm for a talk on "All you ever wanted to know about Recycling & other Rubbish".
For recycling points in and around Elsenham see the special centre page supplement In September 2023 Elsenham News.
Farmers Market
Please support the Elsenham Farmers Market in the Village Hall (by the school) 12.30 - 2.30pm usually on the last Saturday of each month. Please check events calendar

Village Fete 2023
Thank you to the fete committee for organising another successful fete.
A new committee is being formed so if you wish to join us please see August 2023 Elsenham News
Photos from the 2023 fete here.
Elsenham Community Hub will resume later in the year
Elsenham Warm Place
Congratulations to Sue Waite & the Village Cafe Team for running the Elsenham Warm Place in the Memorial Hall during January, February & March 2023. This was funded by the Essex Association of Local Councils.
Village Cafe Coffee mornings continue on Tuesday mornings 9.30 - 11.30 at the Memorial Hall. Everyone welcome.
1st January 2023
Revised Hall Hire charges will apply.
ELSENHAM NEWS
Congratulations to the Editorial Team on the publication of the November 2023 edition. Coming to your letter box NOW!
If you have time on your hands and want to assist in a venture, Elsenham News are always on the look-out for keen volunteers!
See the latest edition for contact details.
All editions of Elsenham News since February 2020 are available here
19th September 2022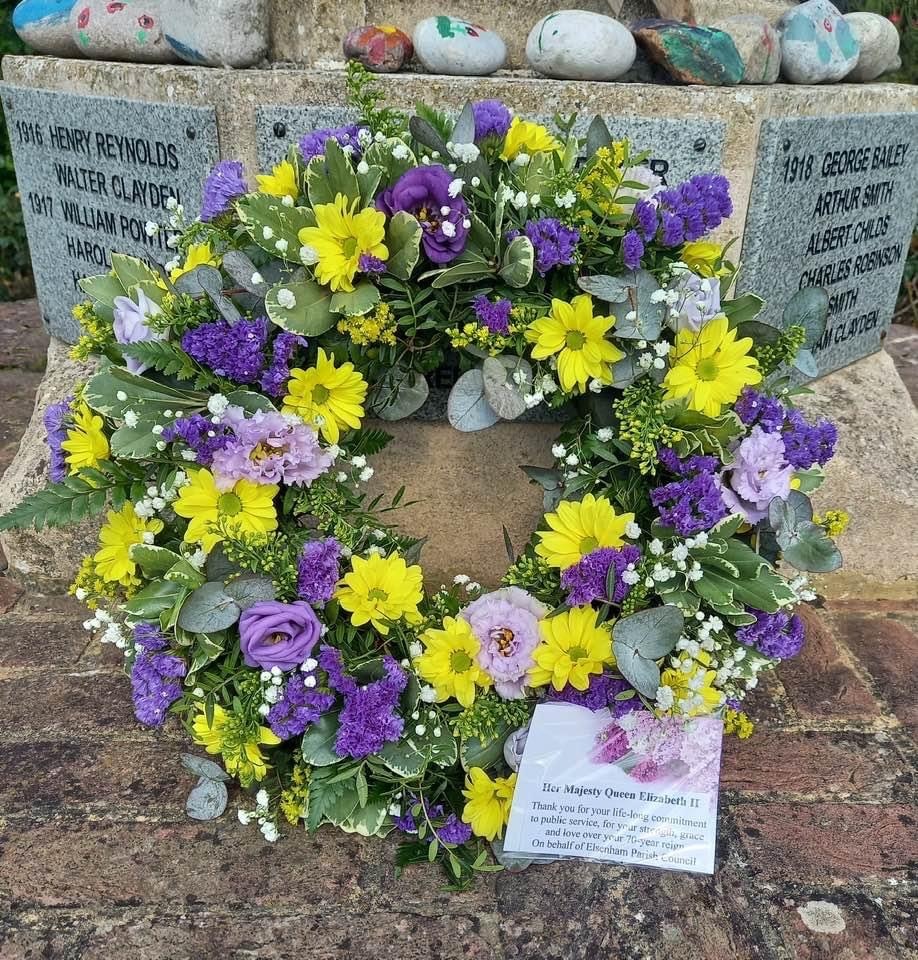 Her Majesty Queen Elizabeth II
Thank you for your life-long commitment to public service, for your strength, grace and love over your 70 year reign.
On behalf of Elsenham Parish Council
June 2022
Congratulations to the fete team for organising Another Successful Fete. A good time was had by all.
Elsenham Community Association (ECA) is a charity and is the Umbrella Organisation for most groups in Elsenham Village.
We own and manage Elsenham Memorial Hall situated on Elsenham Playing Field.
Access on foot is from Station Road.
Vehicular access is off Leigh Drive.
We produce the Village Magazine "Elsenham News" which is delivered free to each household in the village each month (except January).
Elsenham News is also available to purchase from Elsenham Post Office & Jeff & Eddie's (Elsenham Railside Cafe) for 75p or free as a .pdf from

A Street Map of Elsenham can be found in the November 2019 edition of Elsenham News or can be printed here.
Links to Village and other organisations
This website will be continually evolving.
There is no need to be a member to visit this website
For full details of all village events please see the Diary and Village Contacts pages of Elsenham News.
Latest update 6th November 2023
Contact Information
Memorial Hall,
Elsenham Playing Field,
Off Leigh Drive,
Elsenham
Essex
CM22 6BY