MacMillan Coffee Morning
WORLD'S BIGGEST COFFEE MORNING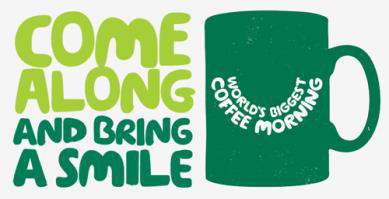 There are now 2.5 million people in the UK living with cancer. By 2030, it will be four million people, and we want to be there for them all.
One in three of us will get cancer and it will be one of the toughest things we'll ever have to face. Our goal is to make sure no one faces cancer alone. We provide medical, emotional, practical and financial support, as well as campaigning for better cancer care.
£203 raised could make sure a Macmillan nurse is there for a whole day to provide essential medical, practical and emotional support for someone facing cancer…….
We have ALL lost someone to this terrible disease at some point, so if you are umming and arring about coming this year, please make sure you do come! Let's make this the best Coffee Morning yet – we can all raise a cuppa in memory of them and help beat this vile illness.
So come on Elsenham, do your stuff once more and help us add to the tremendous amount raised last year by Macmillan and make it EVEN more, so we can help even more people.
Please join us on our big day (Friday 24 September in the Elsenham Bowls Club from 9.30-11.30am) and please help to support us in anyway you can,
either
by joining us on the day,
by baking a cake,
by donating tombola prizes or
by making a financial donation.
It will all help make a difference to the Macmillan Cancer Support Charity,
but whatever you do, PLEASE DON'T FORGET – thank you.
Please contact elaine.terry2011@btinternet.com and let us know how you can help.
Many thanks.